CBD Use for Pets: What You Need to Know
Whether you own a dog, cat, or horse, many pet owners are turning to CBD for their pets to help with a variety of different conditions. Some people believe that what works well for humans will also work well for animals, and there is evidence showing some benefits, although the FDA has not approved such use.
But how does CBD actually affect our furry friends? What conditions can it help with? And what types of products are available on the market today? Here's everything you need to know about using CBD for your pets!
What is CBD oil?
CBD or cannabidiol oil is a non-psychoactive compound found in hemp and marijuana plants. CBD has been used for centuries to heal many conditions but saw an explosion of popularity when medical cannabis became legal across the country.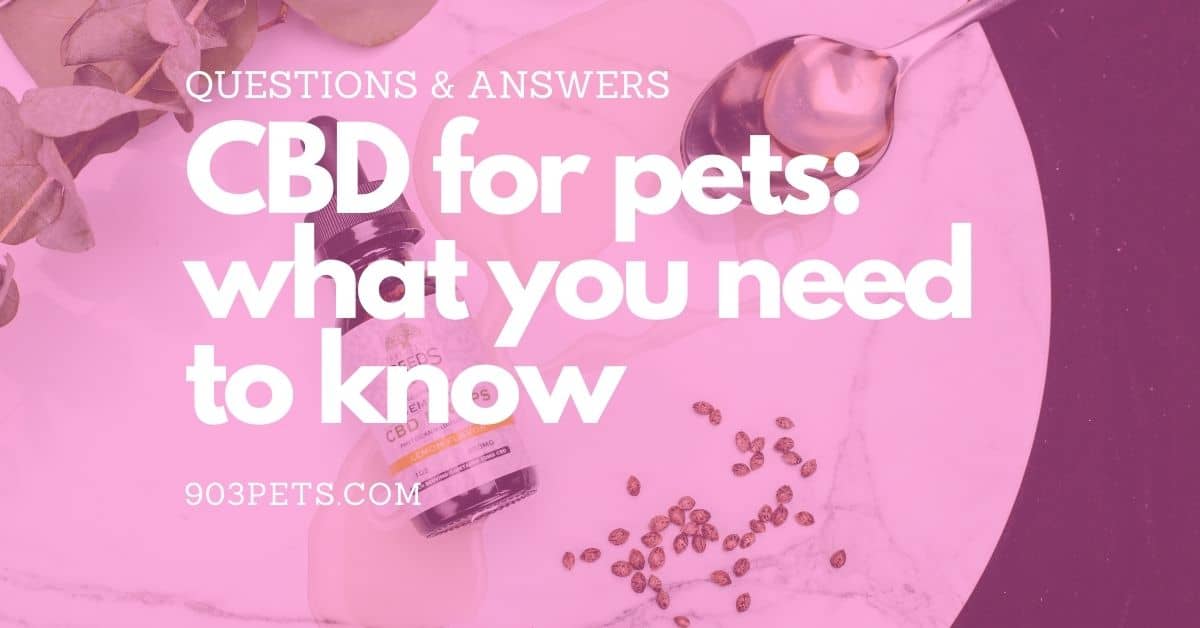 Today, CBD products can be found in oils, edibles like dog treats, capsules, and liquid drops.
The controversy over pet use of this substance centers around dosage; because it isn't psychoactive, there's no easy way to tell how much your dog or cat needs at any given time, which makes it difficult to know if you're giving them too little or too much.
How does CBD affect pets?
The jury is still out on the effects of CBD on pets.
Several studies carried out by scientists have shown that cannabinoids interact with the endocannabinoid receptors in the central and peripheral nervous systems.
Cannabinoids help maintain a healthy state of balance in the body, which is crucial for animals as well as humans.
What forms does CBD for pets come in?
There are three types of CBD products for pets: tinctures, capsules, and hemp food.
Tinctures come in a dropper bottle and can be mixed with their food or water if they have trouble eating on their own.
The capsules can also be given to animals orally or added to their food as well.
Hemp foods use the same CBD compounds that are found in the oils.
The CBD that is best for pets comes from hemp, not marijuana. Therefore, it does not contain THC and will not give your pet a "high" or make them feel sedated. In fact, it won't have any psychoactive effects on animals at all!
Because of this distinction, many people don't often need to worry about the legality of CBD products for pets.
Benefits of CBD for pets
Science says that CBD may be able to reduce inflammation and relieve pain in felines. The research is still developing, but there are many options for natural pet care using CBD, like treats or tinctures.
Anyone who owns a pet has likely dealt with some kind of ailment at one point or another- from minor skin irritations to major organ malfunctions.
When it comes time to choose treatment, more and more people are considering alternatives such as using cannabidiol (CBD) products made specifically for pets instead of pharmaceuticals laden with side effects and other risks.
As long as your veterinarian approves, you can purchase any number of CBD products, including oils, supplements, sprays, or even calming chews, designed to provide relief for a variety of ailments from seizures and arthritis to anxiety.
How to administer CBD oil to your pets
CBD products made specifically for pets come in many forms. The most popular among pet owners are CBD oils which can be administered orally or mixed into your animal's food depending on the severity of their condition.
For more serious issues such as epilepsy or severe pain, veterinarians might recommend a CBD tincture which can be administered using an eyedropper or syringe.
The most important thing to keep in mind when administering CBD products to your pet is that they're highly sensitive animals who are much more vulnerable than humans and therefore need specialized care. Talk with your veterinarian about the best way for you to administer CBD oil or other products.
Side effects of administering CBD to pets 
Giving CBD to your pets may have side-effect including, but not limited to, drowsiness, increased appetite, or vomiting. In addition, there have been reported cases of decreased activity and unsteadiness.
These side effects are usually mild and go away with use. However, if you notice that these side effects are severe or don't go away, it's best to talk with your veterinarian.
It's also important to note that CBD can interact with some medications, so it may be necessary for you or your veterinarian to monitor how the medication is being affected by the addition of CBD oil.
Always consult a vet before giving any medication to your pets, even if they're over-the-counter medications such as CBD oil which is considered safe for humans.
Personally, we don't truly know the impact and do not recommend administering CBD to your pet until you are well informed and consulted with your veterinarian.
Possible CBD Side Effects in pets:
Dry Mouth
Vomiting
Drowsiness
Lowered Blood Pressure
Decreased Activity
Unsteadiness
When not to give your pet CBD oil 
CBD does not typically have any negative side effects for pets. However, some reported cases of diarrhea or vomiting in the first few days after administering CBD to a pet.
If these result from overconsumption and go away with use, it's best to keep an eye on how your pet responds long-term and talk with your veterinarian.
If your pet is experiencing pain or seizures, CBD oil might not be the best option if they are on any other medications that could interact with it.
If you're concerned about the toxicity of high doses for pets in general, talk to your veterinarian before giving them anything which has not been prescribed by a vet first, as this can happen from certain types of medication.
CBD is said to help with almost any condition, but these treatments are mainly anecdotal, and there's little research on how CBD helps pets.
There have been reports of it helping animals' anxiety levels or arthritis pain if they're over the age of 12 weeks. However, more information needs to be studied before making conclusive statements about what conditions are best treated with CBD.
What conditions in pets is CBD oil supposed to help?
Let's first say that the FDA has not approved CBD to treat any illness in pets. There is not enough research to know if it can help, and therefore they are not approved.
Some vets have said that CBD oil may be able to reduce inflammation in pets with arthritis. It also speculated that it might help animals who suffer from anxiety levels or seizures. Additionally, some pet owners say that CBD has helped their animal's ills like cancer pain, and appetite loss.
However, there is not enough research to validate these claims, yet. CBD for pets may be helpful in the future, but as of right now, it remains controversial and unapproved by the FDA.
Pet owners claim CBD has helped their pets with:
Inflammation
Pain
Appetite loss
Seizures
Anxiety
Interestingly, the American Kennel Club Canine Health Foundation has provided a grant for a study to research the Efficacy of Cannabidiol (CBD) for the Treatment of Canine Epilepsy.
What is the proper dosage of CBD for my pet?
Determining minimum and maximum dosages of CBD for pets requires three pieces of information. The type of pet, weight, and desired dosage level (min-max)
To determine the maximum daily CBD dosage for dogs, we found that the recommended use is a maximum of 2.27mg CBD/lbs or 5mg CBD/kg. Please talk to your veterinarian about doses higher than this.
Innovetpet has a handy CBD dosage calculator to help you determine to correct dosages. https://www.innovetpet.com/pages/cbd-dosage-calculator
What to look for in pet CBD products?
Organic is key. It is important to ensure that the product is free from all nasty chemicals like solvents, fungicides, and pesticides. If you wouldn't put it in your body, don't put it in your pet's.
Prove it! Lab analysis. High-quality CBD products come from manufacturers that go to the expense and trouble to provide a certificate/analysis certifying the CBD percentages and verify there is little or no THC levels. HolistaPet does this.https://www.holistapet.com/lab-testing-certificates-of-analysis-coas/
Low Price is not best. This goes back to the lab analysis bullet above. Cheap CBD products typically have deficient amounts of CBD or may contain harmful chemicals and additives. Know what is in your product and be willing to pay for quality.
Start with CBD liquids. Begin your pet CBD journey with a liquid. Doing this allows you to be exact with a drop-for-drop dosage that you can adjust with your pet until you find the proper dosage. Once you find the right dosage, you can feel confident with treats and other forms of CBD.
Where to buy CBD oil and how much it costs per month?
"When derived from lawful materials such as hemp, CBD and other non-psychoactive cannabinoids are not controlled substances because they're not specifically scheduled." – Forbes (Robert Hoban) – https://www.forbes.com/sites/roberthoban/2020/06/24/cbd-has-never-been-a-controlled-substance/?sh=47ddbbdc4569
CBD products for pets can be found online and in some retail stores, but it's important to verify the purity before buying.
It is also possible to make your own pet-friendly CBD oil at home by using ingredients such as hemp seeds or coconut oil mixed with water. The CBD products found online and in stores are typically oils or tinctures.
Our preferred online sources for CBD pet products are HolistaPets and InnovetPet
The monthly cost of CBD for pets depends on your pet's size and desired dosing levels. The average cost of CBD for pets is in the table below.
| Pet | Min. Dosage Cost | Max. Dosage Cost |
| --- | --- | --- |
| Cat | $3.52/Month | $286.71/Month |
| Dog | $4.00/Month | $352.94/Month |
| Horse | $16.67/Month | $598.33/Month |
Average min/max monthly CBD costs for pets
Why buy CBD pet products from HolistaPet?
I am happy to share about HolistaPet as your best source for CBD products for your pets. Their Veterinary Advisory Board is made of real veterinarians who understand pet medicine and the effects of CBD on your pets.
One of the board members, Dr. Natasha Olby, VET MB, PHD, MRCVS, DACVIM (Neurology), is a past president of the American College of Veterinary Internal Medicine Neurology specialty and a Co-Editor of the BSAVA Manual of Small Animal Neurology. She also has active research programs on spinal cord injury, Chiari-like Malformations, and neurodegenerative/aging diseases, and has authored over 100 peer-reviewed research articles.
The 3 CBD Dog Treats Multi-Pack from HolistaPet is a great deal, and they even have a subscription service so that you do not have to worry about re-orders. In the Multi-Pack, you get 3 Bags of CBD Dog Treats, (1) Stress & Anxiety Relief, (1) Heart & Immune Care, and (1) Joint & Mobility Care. 100% Natural Ingredients. For less than $0.90 per treat, you are covered all month long.
These treats come in delicious flavors and are organic, vegan, non-GMO, gluten-free, and dairy-free. Each treat is reported as containing 5mg-20mg of CBD. They even lab test their treats to ensure the amount of CBD present is what you get.
Conclusion
CBD use for pets can be controversial. But CBD is a natural solution to what pet owners are looking for in their animal companions – relief, help, and support from all sorts of ailments that affect dogs and cats and other animals like horses or birds.
There are many different types of products available. Still, the best advice you can take when considering using CBD with your pets is to consult with an understanding veterinarian who understands pet medicine and the effects of CBD on your pets.
Disclaimer
We've been told that since we discuss CBD products above we have to put the following disclaimer on this content. Go figure!
The information above and on this website is not intended to make or imply claims that these products can be used to diagnose, treat, cure, mitigate, or prevent any disease. Statements within our content have not been clinically reviewed or evaluated by the FDA. Please consult your veterinarian about potential interactions or other possible complications before using any product. The information on our website is intended to inform the public honestly and transparently.
If you think your pet is ill, call a vet immediately. All health-related questions should be referred to your veterinarian. They can examine your pet, understand its health history, and make well informed recommendations for your pet.

903pets.com Staff