Sick Dog Vet Costs – Bridgette's Journey
We recently went through a tough season. Bridgette, one of our Boston Terrier's was living the high life and then four weeks later, she was gone. In honor of her, we wanted to share the journey and answer one of the most common concerns that pet owners have, "how much will the vet cost?"
When it comes to a family pet, nobody wants to talk about the expenses during the crisis. But, there is a reality to them.
In this article, we'll share the exact, line-by-line, itemized detailed bills in order to help you understand what you can expect.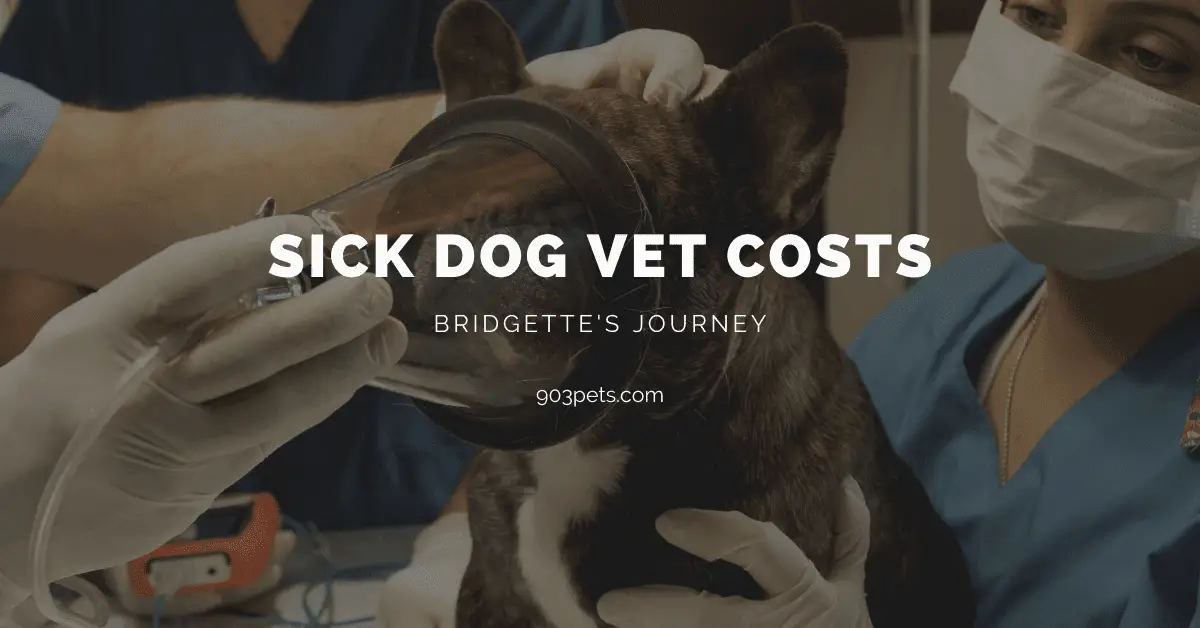 The reason we are doing this is so that dog owners can be informed and perhaps more dogs with a similar condition will receive treatment through a vet.
We hope you'll take a few minutes to read both the details of costs, but also the four-week journey Bridgette and my family took.
Let's journey together.
The veterinarian costs for a dog with congestive heart failure over a four-week period totaled $1,091.13. These costs included exams, diagnostics tests, imaging, medications, euthanasia, and cremation. The average cost per visit during this case was $181.86 over 6 visits.
November 1 – The Cough
On November 1st, we noticed one of our Boston Terriers, Bridgette, age 11, would periodically act like she was trying to cough, hack something up. It was only once or twice, but looking back at it, this was the first sign of what was to come.
The next day, the cough continued.
We made a call to the vet and made an appointment. It was time for her annual exam and shots anyhow so it was no big deal to get it done at once and make sure nothing was wrong.
November 4 – Initial Exam
Bridgette was excited to go to the vet.
When we pulled up she was eager to get out, sniff around and see many new friends.
Bridgette weighed 23.8 lbs and, according to the veterinarian, she was an ideal weight and frame being exceptionally well proportioned.
The veterinarian performed an annual exam and IDEXX heartworm snap test along with a fecal exam just to be sure.
Given that Bridgette didn't quite seem her normal self, we opted to also have a CBC (Complete Blood Count) and biochemical profile performed.
All bloodwork came back as being good and no readings were out of established ranges.
We know that Boston Terriers are a brachycephalic breed. That means they have flat noses, long palates, and their airway is narrower than other breeds. Pugs and French Bulldogs fall into this same category.
Because of this, Bostons are more likely to suffer from respiratory problems than other dogs.
The vet indicated that her cough may be due to congestion and to give it a week or two and see if it would clear up on its own. If needed, we were told to try Benadryl or 1/2 of a Zyrtec to help.
However, she suggested we wait on the annual vaccinations until Bridgette's recheck 12 days later.
We also picked up the next 3 months of Simparica, our flea, tick, and heartworm preventative.
Finally, we got a nail trim while we were there.
Off to the house with Bridgette, we scampered.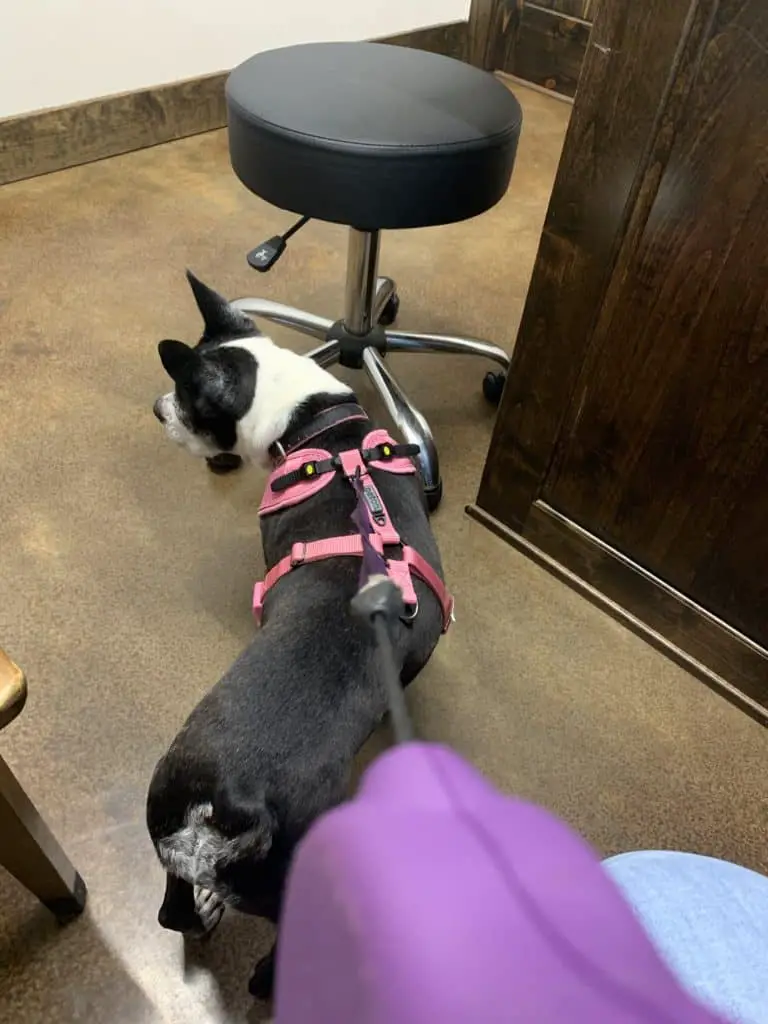 Vet Bill – Visit #1
| Description | Price |
| --- | --- |
| Exam/Consult | $58.00 |
| IDEXX Heartwork Snap Test | $29.00 |
| Fecal Examination, Flotation | $20.00 |
| Complete Blood Count (CBC) | $55.00 |
| Biochemical Profile, General | $82.00 |
| Simparica Trio, 22-44lbs, blue | $78.00 |
| Nail Trim | $10.00 |
| TOTAL | $332.00 |
November 16 – Something More Is Going On
Over the past 12 days, Bridgette's cough did not get worse but remained the same. The hacking cough showed itself 2-3 times per day.
What did change, is that her breathing had become more rapid and labored and she tired easily. Bridgette was sleeping a little more than usual during the day.
Her resting respirations per minute (RPM) were averaging around 38. She had been well under 30 RPM when healthy.
We went to the recheck appointment with the vet wondering if she had become allergic to her food, but also deep in our hearts felt as though something more serious may be at play.
At this appointment, she received a diagnostic exam and X-rays, also known as radiographs.
The X-rays revealed significant fluid around her lungs, pleural cavity. This was the first sign that something more sinister was taking place.
Due to her rapid breathing, there was a lot of motion in the radiographs which produced many artifacts. However, there was some indication that the right side of her heart may be a bit enlarged.
Bridgette received an injection of Dexamethasone and prescriptions for Furosemide (Lasix), Prednisone, and Clavamox.
The Prednisone was to reduce inflammable, Furosemide to flush out the fluids from her pleural sac, and Clavamox as an antibiotic to get rid of any bacteria that might be causing the issue.
This three-prong approach was intended to tackle three-potential causes in order to help Bridgette's bodily functions while we figured out the root cause.
A secondary goal was to get Bridgette's breathing to a more normal pace in order to obtain better X-ray pictures at the next visit which would help guide additional diagnosis.
With that, we brought her home and were scheduled to visit with the vet again in 6 days.
Vet Bill – Visit #2
| Description | Price |
| --- | --- |
| Exam/Consult | $58.00 |
| Radiograph, Primary View | $100.00 |
| Radiograph, Additional View | $25.00 |
| Dexamethasone injection 2mg/mL | $22.00 |
| Furosemide 20mg | $10.00 |
| Prednisone 5mg | $10.00 |
| Clavamox Chewable 125mg | $27.68 |
| TOTAL | $252.68 |
November 22 – Better Then Worse
The first few days following her last visit, Bridgette's symptoms improved significantly. But, on November 20, her symptoms began to return with labored, rapid breathing.
We brought her in to see the vet again. At this visit, we left Bridgette with the vet for several hours. She received another injection of Dexamethasone and another prescription for Prednisone.
However, it was decided to try reducing the Furosemide to see how she would respond.
The hope was to get her breathing back to normal and return before Thanksgiving on 11/24 to do a new set of Xrays and ensure we had everything needed to get through the holiday weekend.
Unfortunately, since her breathing was back to being rapid and labored, no X-rays were done since the imaging would not be improved from the last set.
Her resting respiration rate was between 46-48 RPM.
There was no heart murmur detected and no heart sounds that caused concerns.
We, and the vet, were certainly recognizing a troubling picture of health for Bridgette.
Vet Bill – Visit #3
| Description | Price |
| --- | --- |
| Exam, Recheck | $35.00 |
| Dexamethasone injection 2mg/mL | $22.00 |
| Prednisone 5mg | $10.00 |
| TOTAL | $67.00 |
November 24 – Baby Steps
Bridgette received only a slight improvement in the last two days.
But the improvement was enough we wanted to try and get better X-rays done while we could.
This set of X-rays did show some reduction in the fluid around her lungs but still not enough to get the best radiographs combined with her breathing movements.
Since the initial set of meds had provided some initial improvement, Bridgette went back on both the Prednisone and the Furosemide.
The vet made arrangements for how we could contact her over the holiday weekend and discussed a plan of action we could take should it be needed.
She was scheduled to see the vet again on 12/1.
We went home even more concerned, yet attempting to be hopeful. In all honesty, I was a bit leary of what we might need to do over the Thanksgiving holiday.
Vet Bill – Visit #4
| Description | Price |
| --- | --- |
| Exam, Recheck | $35.00 |
| Radiograph, Primary View | $100.00 |
| Radiograph, Additional View | $25.00 |
| Furosemide 20mg (Qty. 40) | $10.20 |
| Prednisone 5mg (Qty. 25) | $10.25 |
| TOTAL | $180.45 |
November 25 Thanksgiving – Give Thanks Always
Bridgette responded well to the treatment, returning to about 90% of her normal activity. She was perky, playful, and full of love.
It was a wonderful time with Bridgette, her family, and our other dogs.
Bridgette was pampered more than ever and spent much of the restful times laying on the couch between us humans, a treat not usually offered.
Yet, on 11/30 we noticed her symptoms returning. 24 hours later, she was back to breathing in a labored fashion. She was not well.
December 1 – The Broken Engine
On December 1st, Bridgette once again made a trip to the vet.
This was a longer consultative discussion.
I had been doing research and reading for several days. This meant I had thoughts and questions about Bridgette's health. My unqualified thought was that Bridgette had Stage D heart failure based on the clinical signs and diminishing response to furosemide. By, what do I know?!?
The vet indicated that she thought this was most certainly going to be cardiac-related. Our next step would be to get an echocardiogram done on Bridgette.
This somewhat aligned with my thoughts that this seemed like late-stage congestive heart failure. It seemed Bridgette may only have weeks left, or a couple of months at best is a thought I kept to myself.
The vet knew a cardiologist that she could get a consult with and that could help us know if this was something treatable with medications or if we were perhaps fighting an uphill battle.
Bridgette was prescribed an increased dose of Furosemide and a reduced dose of Prednisone. A new drug was added, Enalapril as an ACE inhibitor, to help open blood vessels and reduce the work needed by her heart.
We left the vet planning to continue the treatment plan while scheduling the echocardiogram could be done.
Vet Bill – Visit #5
| Description | Price |
| --- | --- |
| Exam, Recheck | $35.00 |
| Furosemide 20mg (Dosage change) | No Charge |
| Prednisone 5mg (Dosage change) | No Charge |
| Enalapril maleate 5mg (Qty. 28) | $27.68 |
| TOTAL | $45.00 |
December 2 – Rainbows Are In Order
Over the next 10 hours, Bridgette's condition deteriorated rapidly. She did not respond to the medications as she had before.
Overnight, I stay up with her all night and she only stood, never laying down despite my attempts to get he to do so.
She stopped eating.
Then she stopped drinking.
Early in the morning hours, her rear legs failed and she was forced into a sitting position. Likely, this was caused by a lack of blood flow.
She recovered her ability to stand but was clearly labored in her breathing.
We called at first light and consulted with the vet, suggesting that it was time to let her go as she should not suffer any longer.
Our vet is wonderful, being an advocate for every pet as well as the owners. In this case, she agreed that it was time.
When we arrived for this final vet visit, Bridgette was showing signs of hypoxia. Her nails were beginning to show a blue tinge of color and her tongue was similar. It was certainly time.
At 1:07 PM on December 2nd, Bridgette passed over the rainbow bridge while in my arms. We all wept.
Ok, truthfully we sobbed as she passed.
She will be missed.
Vet Bill – Visit #6
| Description | Price |
| --- | --- |
| Euthanasia | No Charge |
| Private Cremation (0 to 25lb) | $165.00 |
| Clay Paw Small – KVC | $35.00 |
| Name Plate – Engraving | $14.00 |
| TOTAL | $214.00 |
December 4 – Memories
We miss our Bridgette dearly. Her brother still looks around the house for her when we come and go but is starting to realize she is not coming back.
Yet, we've found ourselves laughing while looking at pictures and videos of Bridgette.
The way she gave you that look like "Whatever!" when she was not interested in what you were doing making all that noise.
The puppy pictures are too cute. "Oh wow, I forgot she didn't always have grey hair!"
It's the memories we will always have.
So, how much did the sick dog vet bills cost?
Thank you for reading our journey over the past four weeks. But, I know the question most are asking is about the costs of trying to reasonably save our Bridgette.
I say "reasonably" save because we are not rich. We are an average American family of modest means. So, there is a limit as to what can be spent. Yes, some readers will call me cold, or unfeeling, or that I shouldn't have a pet if I wouldn't do everything medically possible regardless of cost.
I beg to differ. There is reasonableness to everything in life. This is no exception.
So, in all, we spent $1091.13 at the veterinarian over the past four weeks. That was for 6 visits that began with an annual check-up and ended with euthanasia. If you average those visits out, it is 181.66 per visit.
And we never second-guessed the expense. It was all worth it. We did what we could and would have done more, but, she went so fast.
Takeaways
This was our first experience with a truly sick pet that required diagnostic and palliative care for an illness.
There are a few realities that I want you to take away from our experience.
Veterinarian care for sick pets can be affordable if you find the right vet.
Recheck visits were less expensive than full annual exams. ($35.00 vs. $58.00)
A good vet will work with you to help reduce costs in order to provide what's best for the animal.
Standard medications for pets are very reasonable. (Approximately $20.50 – $55.68 per month in our case)
What Are The Symptoms Of Canine Congestive Heart Failure?
Again, we are not vets but here is what our veterinarian shared with us as the symptoms that could be any myriad of heart-related ailments including congestive heart failure:
Fatigue
Coughing
Consistent panting even after recovery from exercise/heat
Struggling to breathe (Open mouth breathing that is not panting)
Rapid breathing rate, while resting (above 37 RPM)
Reluctance or refusal to exercise
Getting tired more easily on walks or during play
Blue-tinged gums (This is advanced hypoxia and needs emergency attention)
How Long Do Dogs With Congestive Heart Failure Live?
The answer does vary with a distinction being made between the slow or fast onset of clinical signs. According to a 2018 study, the answer is that dogs' average life expectancy is 6-14 months once the signs of congestive heart failure appear.
In Bridgett's case, she presented was a very fast onset of clinical signs and we know that it was only a matter of weeks for her.
Interestingly, the study suggested that dogs receiving a furosemide dose >6.70 mg/kg/day had significantly longer median survival times (402 days versus 129 days).
Additional Resources:
If you think your pet is ill, call a vet immediately. All health-related questions should be referred to your veterinarian. They can examine your pet, understand its health history, and make well informed recommendations for your pet.

903pets.com Staff